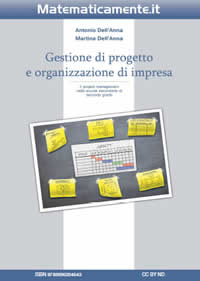 PROJECT MANAGEMENT AND ORGANIZATION OF UNDERTAKING
The project management in the secondary school level
Antonio Dell'Anna and Martina Dell'Anna
"Project management and business organization" promotes the reorganization of skills and multidisciplinary knowledge acquired by the students of technical schools of ICT to the planning and conduct of a specific project in the ICT sector. The book follows the principles of instructional design in accordance with ministry guidelines, easily adaptable to the class council choices .
Project management process is divided in two parts: planning and execution. Planning is aimed at the realization of the project plan while the next phase is the implementation of that plan.
The course follows typical project management phases and processes, therefore, following the teaching units, students will learn to create a project plan and then proceed to its processing.
The authors set out to introduce the student to the study and application of project management methodologies through the analysis and development of real case studies.
The book contains eight case studies analyzed on the basis of direct experience of the authors. One such case, called SPOT (Online Public Services Territorial), is fully developed in the book and its project plan is published in full in the accompanying booklet. Other case studies are described in general, students have the task of developing them on the basis of methodologies and examples provided.
At the beginning of the course, after studying the general principles of the discipline, student must read case studies and choose one. The book will allow him to fully develop the case chosen by running all the proposed exercises. The student will build the project plan and, simulating the main management activities, he will elaborate documentation of project management.
.

........................................................................................................................
Authors
Antonio Dell'Anna This email address is being protected from spambots. You need JavaScript enabled to view it.
Martina Dell'Anna
Contributors
case study SPOT and editing: Maria Pia Accogli
case study "Costruire": Tommaso Corsi
case study "Banda Larga": Alessandro Pratesi
editorial coordination: Antonio Bernardo
Cover: Ginger Lab
The authors thank Giuseppe Polimeno for encouragement, confrontation and suggestions.
© Matematicamente.it www.matematicamente.it - ​​This email address is being protected from spambots. You need JavaScript enabled to view it. April 2014
ISBN 9788896354643
This book is licensed under Creative Commons BY-ND Attribution - No Derivative Works http://creativecommons.org/licenses/by-nd/3.0/it/deed.it.